MISSION STATEMENT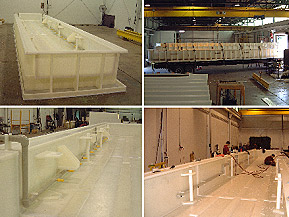 CEPC LLC is dedicated to engineering and manufacturing the highest quality Thermoplastic Process Equipment for the Metal Finishing industries. Our philosophy is to attract customers in our market and retain them by providing them the best return on their equipment and maintenance dollars.
We highly value our new relationships, and strive to make them long-term. We are proud of our history of exceeding customer expectations. All of this moves us toward a solid financial future for our customers and ourselves.
Ours is a perpetual effort to improve our Technologies and Manufacturing, our Product Quality, our Field Services, and our Teamwork at all levels. Our open forum helps us to achieve excellence in communications, work processes and customer satisfaction.
The integrity of our employees and the sophistication of our designs and equipment are what we bring to our market. Individual creativity and job innovations are always encouraged. And above all, employees are given the same consideration and respect internally that we show to our customers, suppliers or associates. CEPC LLC is a wholly owned subsidiary of C&E Plastics Inc. www.ceplastics.com
Welcome to CEPC LLC
---
Some of our specific offerings include:
Custom engineered thermoplastic designs, done in AutoCAD 2000 and 2000i
CEPC LLC utilizes the DVS-2205 German Thermoplastic Welding Guidelines, AWS, ASME and other applicable codes
Finite Element Analysis for severe applications when required
Hundreds of years of collective experience in conceiving and manufacturing custom plastic equipment for many applications, including surface treatment of strip, plate, wire, pipe and tube, chemical services, exotic plating, hot-dip and continuous galvanizing
A large manufacturing facility fully served by THREE overhead cranes
A 16′-4″ fusion butt-welding machine capable of welding 2″ thick materials in both flat and corner configurations
The industry's only 45-degree Corner Fusion Welding Machine, which makes a corner weld over 40% stronger than any other corner fusion welder in domestic use
A fully automated Bending Machine, for materials up to and including a 1 inch thickness and 10 feet in length
Automated Panel Saw with 18′-0″ long cutting capability
Machine-made weld bevel preparations, for better accuracy of fitting and more consistent weld bead cross-sections
Large-size extruded sheet inventory, typically 6′ x 16′, to minimize weld seams and increase fabrication efficiency
Experienced Field Service Technicians, available anytime at 412-980-7402, for emergency repairs or pre-planned equipment installations and modifications
To our customers, we are the definitive 'go-to' guys. They know what they want from their plastic equipment, and we provide them the ways to achieve their goals.
So follow the lead of many others in your industry. Contact us at 412-747-1101 or 1-800-394-4333. You'll be glad you did. As we have done for countless others, we'll be most pleased to show you the way, too!