CEPC LLC STANDS BY ITS REPUTATION AND YOU CAN STAND ON OUR ENGINEERED DESIGNS AND FABRICATED PRODUCTS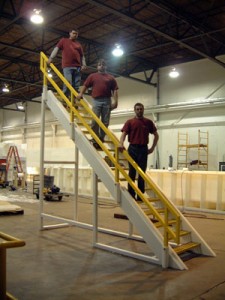 In June of 2014, CEPC LLC became a wholly owned subsidiary of C&E Plastics, Inc. Clifford D. Crighton, the President of C&E, possesses over 37 years of experience in the thermoplastic industry. He has hands-on experience in fabrication and design, and extensive knowledge of replacement equipment in continuous, push-pull, carbon, and stainless steel strip pickling lines. Under his leadership, C&E and CEPC LLC will continue to provide the finest thermoplastic equipment in the world.
Clifford D. Crighton, President
---
Richard Heagerty, Operations Manager
Rich offers his extensive domestic and international experience in the Plastics / Metal Finishing Industry. Since 1985, he has excelled as Manufacturing Engineer, Production Manager and Project Manager, providing leadership from innovation to development to installation.
Rich Simms, Inside Sales / Estimator
Over 20 years of experience in plastic fabrication and design of polypropylene equipment for the steel industry.
In those years I also have been involved in the field repairs and equipment installations.
For the last 6 year I have been estimating polypropylene equipment.
Chris Sanford, Designer/Mechanical Engineer
Eight years of experience in engineering, plus 2D & 3D mechanical design experience for manufacturing.
Tom Ansman, Engineering
Eighteen years of experience in 3D Mechanical Design, Engineering, and Manufacturing
Ron Heagerty, Manufacturing Manager
11 years experience in plastic fabrication, on-site repair & design of industrial polypropylene equipment.
In those years, I have been the Field Service Supervisor responsible for Field installations, modifications & repairs to equipment.
For the last few years I have added the responsibility of planning, training & coordinating the workflow of the production department.